"Son," his father said, leaning forward. "Stories don't always have happy endings."

This stopped him. Because they didn't, did they? That's one thing the monster had definitely taught him. Stories were wild, wild animals and went off in directions you couldn't expect.
Every so often, a book comes into my life that leaves me utterly speechless, speechless in wonder, in awe, in tears, and in stupidity. This one certainly went in directions I didn't expect, it went in directions that moved me, that rattled me, that made me sit up and think and, yes, sob out-loud at the beauty, the pain, the very gravity of this powerful story. I just don't know what to say, because what I want to say-I want to say it in a way that it to makes you run out and devour this book, and love it as much as I did.
A Monster Calls is just such a book.
"Stories are wild creatures, the monster said. When you let them loose, who knows what havoc they might wreak?"
Conor has the kind of problems no kid should have to deal with. He's bullied constantly at school. All his friends have abandoned him or been pushed away. His parents have divorced and his father has left and moved to America with his new family. And the nightmares he has been experiencing since his mother started her cancer treatments bring him screaming awake every night. So when the monster comes out of the darkness and the screaming, it feels like Conor's nightmare made flesh. The monster in his backyard is ancient. It's wild. And it wants the hardest thing Conor can give-the Truth.
"Stories are the wildest things of all, the monster rumbled. Stories chase and bite and hunt."
That very brief synopsis does little to truly tell you what this book is about. This story will bite and chase and hunt. It will leave you haunted and shattered. It will leave you feeling fulfilled in ways I can't (as I've said) begin to describe. It will leave you at peace. Loss is something we all have to deal with. I dealt with it at the tender age of 8. Conor is dealing with it at the tender age of 13. And he's not handling it any better than I did. His mother has cancer and, despite her upbeat attitude, she's struggling. And so is Conor. He doesn't know how to deal with her illness and she doesn't know how to talk to him about it. He needs those words, those truths, which she isn't giving him. So when the Monster comes, it comes to tell him stories-but not the stories Conor wants to hear. The Monster comes to tell Conor the truth and to force him to tell it himself. The Monster will force Conor to acknowledge the one story he refuses to believe and it is heartbreaking.
If there is one thing people need at times like the one Conor is going through in this book, especially younger people like Conor, it is comfort. There is so much pain, so much confusion, so much guilt and despair, and not always the knowledge of how to express all those raging emotions. This book does so much to help with the understanding of grief and how to deal with it. And most importantly, that all those feelings, that grief, that guilt–they are okay. They are normal. They are to be expected, embraced, and most important of all-dealt with. This book is like the big bear hug we all need. I suppose you've noticed I've said several times this book made me cry. Everyone I know who has read it has said the same thing. It will make you cry, but it's a good kind of cry. It's the kind of cry that cleanses you, makes you feel better, if slightly bittersweet. I honestly can't think about this book without tearing up. I've cried writing this review. And I don't regret it for a moment, so please don't let that put you off reading this book.
The story of how this book came to be is just as heartbreaking and heartwarming as the book itself. Siobhan Dowd was just 47 years old when she passed away from cancer in 2007. At the time of her death, she had completed and published two novels; A Swift Pure Cry and The London Eye Mystery. Both won numerous awards. Posthumously, Bog Child was released in to critical acclaim and was awarded the Carnegie Medal in 2009. The Solace of the Road was released in 2009. Siobhan left behind notes on one final story, a story picked up by Patrick Ness, which will be released in September 2011 in the United States. "She had the characters, a detailed premise, and a beginning. What she didn't have, unfortunately, was time." (Uncredited quote on Wikipedia. Maybe Ness said it?) I couldn't wait. I ordered the UK edition. Patrick Ness details all this in the opening Author's Note and yes, it had me tearing up before I even started the book. Ness wrote a very fitting, very beautiful, and moving tribute to Siobhan and now I have to get her other books. I can't imagine how hard that was, stepping into her shoes, but he proved himself more than equal to the task.
Oh last thing. This book is not only beautiful to read, it is gorgeous to look at. The illustrations by Jim Kay are fantastic and add so much to the story. They are dark, mysterious, and… well… I can't imagine the book without them.
This is my favorite book of the year, at least so far. I'll be surprised to see anything knock it down.  I know I have come no where near to doing this book justice in my review, but I hope I have come close enough to convince you to read it.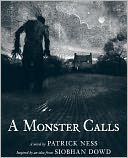 A Monster Calls by Patrick Ness
Pub. Date: September 2011
Publisher: Candlewick Press
Format: Hardcover , 224pp
ISBN-13: 9780763655594
Source: The Book Depository because this American author's books come out earlier in the UK and I AM NOT GOOD AT WAITING. *huff*
Related Posts