It's not often I post about books I don't finish, but this is going to be the case with In a Dark Wood Wandering: a novel of the Middle Ages by Hella Haasse. However, this
was
supposed to be a co-read and co-review and, well, I just couldn't let Aarti down, especially when she couldn't finish it either! So we decided we would talk about it anyway. I mean, we shouldn't
have
to suffer for nothing, right? Right!
So, what is In a Dark Wood Wandering about, you say? Good question. I didn't make it far enough through to be able to tell you that. So, I am totally going to cheat and use the Library Journal's summary, which makes this novel sound a heck of a lot more interesting than it was (in my opinion, that is);
This novel exemplifies historical fiction at its best; the author's meticulous research and polished style bring the medieval world into vibrant focus. Set during the Hundred Years War (1337-1453), the narrative creates believable human beings from the great roll of historical figures. Here are the mad Charles VI, the brilliant Louis d'Orleans, Joan of Arc, Henry V, and, most importantly, Charles d'Orleans, whose loyalty to France brought him decades of captivity in England. A natural poet and scholar, his birth and rank thrust him into the center of intrigue and strife, and through his observant eyes readers enter fully into his colorful, dangerous times. First published in the Netherlands in 1949, this book has never been out of print there and has been reprinted 15 times. This first English translation should find an enthusiastic audience. Highly recommended. BOMC featured selection; Quality Paperback selection.– Starr E. Smith, Georgetown Univ. Lib., Washington, D.C.
So, want the scoop on what Aarti and I thought?  Keep reading!
Aarti: I guess there's no avoiding the fact that neither of us liked this book enough to finish it!  I barely even got halfway through it, to be honest.  I'm SO GLAD I decided to email you and tell you that I was struggling with it so that both of us didn't continue on in misery trying to read and understand a book that just didn't click.
I am not sure why it didn't click for me.  I think it was a combination of many things.  I am not sure if it was the fault of the translation, but it was just so densely written.  The writing was very small and the paragraphs so long and descriptive.  I felt that there wasn't just one main character, but dozens, and we had to go through these long detailed descriptions of what they wore, what they looked like, what their personalities were, what they were motivated by, etc., etc.  And the way they were all related and fighting each other and had titles starting with B (Berry, Burgundy and someone else, too, I think!) just made them all run together in my head.
I also think not having any background in French history around the 13th century was a huge handicap.  I had no idea what was going on, and I feel like while we got GREAT detail on each character, we didn't get much detail on what events were happening or why.  Or maybe it just seemed like the same events kept happening over and over.  I am not sure, but by the time I decided to stop reading, I was completely overwhelmed by the number of battles fought, alliances forged and broken, and betrayals.  Completely over my head!
Heather: Wow, it sounds like we had exactly the same experience! I'm so glad you emailed me too, although I was very close to emailing you with the same question. "Can I put this down? Please?"
I took French for 4 years, I can still speak it somewhat, but we didn't learn much history in there. I had no. idea. what. was. going. on. Completely over my head is right! I couldn't keep the characters straight (all those B names were ridiculous! And they were brothers! Argh!) and all the court intrigue, plus the dense writing…it was just a headache trying to keep it all straight. I never connected to a character, with possibly the exception of the king, but I doubt it would have stayed that way!
I do think some of my problem was the writing. As you say, it was very dense, very slow, and very overwhelming. At first, it felt so readable, but as I went on it felt like trying to walk through mud – slow and sticky and just really really annoying. The design of the book didn't help me either. That small print was brutal. And I agree. It almost feels like the author assumes we know what's going on historical and focused more on the characters and what they were thinking and feeling. I wonder if it had been about a time-period I do know about, like say, the Tudors, if I would have enjoyed it more, but I rather doubt it.
See part two of our little discussion over at Aarti's blog
BookLust
.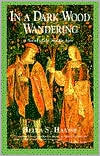 In a Dark Wood Wandering: A Novel of the Middle Ages by Hella Haasse
Paperback, 594 pages
Published May 15th 1991
Academy Chicago Publishers (first published 1949)
ISBN13: 978089733356 Brave enough to try it for yourself? If you buy it through my link, I will get a few cents which will be put to hosting, buying supplies (ie books), etc for this blog. Thanks in advance. If you are brave.

---
Related Posts