One of my favorite books ever is Salman Rushdie's Haroun and the Sea of Stories (review) so when I found out he was coming out with a sequel, I was over the moon. Luckily, Rushdie delivered…for the most part.
Luka and the Fire of Life returns to the same world and the same family as Haroun and the Sea of Stories. Haroun is now a grown man and now has a little brother, Luka. Luka has grown up hearing about the adventures Haroun had when he was eleven and now that Luka is eleven himself, he wants an adventure of his own. When he insults a strange man in the street and his father, the legendary storyteller of Kahani, falls into a deep sleep that no one can wake him up from, it looks like Luka will get his wish. Luka must travel to the Magic World and steal the Fire of Life to save his father.
Luka's story is just as magical as Haroun's. Rushdie almost outdoes himself, with all the magic, mystery and pop culture references. Luka's adventure reads a lot like a video game, with power-ups, multiple lives, challenges and bosses he must defeat to go to the next level. Seeing as how this was written for an eleven year old boy (Rushdie's own son, just like Haroun was), this made sense to me. My own nephew (who is six) is obsessed with games and so is my thirty-three year old husband for that matter. Luka himself was just as adorable, resourceful, and as smart as Haroun. Rushdie's writing was just as sharp, intelligent and fun. I can see this being a great book for boys. For ME, Luka hasn't reached the beloved status of Haroun, but that is simply because I haven't read it as many times as Haroun, yet. I definitely will.
Haroun and Luka both are great introductions to Rushdie, especially if like me, you're too scared to read him. His writing is so much fun for a reader. The word play is fun, and the the themes for love and loyalty are things all readers love. Definitely start with Haroun and get acquainted with Salman Rushdie.
Favorite Quote:
"But that's just a story," said Luka faintly.

"Just a story?" echoed Nobodaddy in what sounded like genuine horror.  "Only a tale? My ears must be deceiving me.  Surely, young whippersnapper, you can't have made so foolish a remark.  After all, you yourself are a Drip from the Ocean of Notions, a short Blurt from the Shah of Blah.  You of all boys should know that Man is the Storytelling Animal, and that in stories are his identity, his meaning and his lifeblood.  Do rats tell stories?  Do porpoises have narrative purposes?  Do elephants ele-phantasize?  You know as well as I do that they do not.  Man alone burns with books."
Other opinions:
The message of Luka and the Fire of Life is a wonderful one.  The entire book is a bow to the amazing gift of storytelling and how powerful it can be.
Smart, inventive, playful and sweet, Luka and the Fire of Life will appeal to lots of readers. I liked it; I didn't love it but I enjoyed the journey through Rushdie's imagination.
This book is celebration of the power of friendship and of love.  It is also a tribute to the power and importance of stories.  How they nurture us as children and as adults.  How if we lose them we lose a part of ourselves and by remembering them we gain courage and overcome fear.  How they can open our hearts.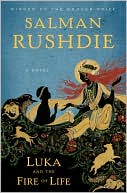 Luka and the Fire of Life by Salman Rushdie
Random House Publishing Group, November 2010
Hardcover, 240 pages
ISBN-13: 9780679463368
Source: The Library
All links lead to Barnes and Noble, with whom I am an associate. If you buy a book through one of my links, yadda yadda yadda.
---
Related Posts