Ahh. Tender Morsels. What a long and sordid story you and I have. I didn't think I was going to like you. Then I didn't. Then I thought I'd try you in audiobook form. Then I really hated you-but mainly because I couldn't stand your readers. Sorry readers. Then Chris challenged me to read it this year and, since I love him so much and trust so him completely, I decided I would give you one more try.
Boy. Am. I. Glad. I. Did.
I was completely wrong about you. I let your first impressions rule my mind and that was just plain stupid. First impressions of this book are so not the way to go lemme tell ya. Because the first impressions I got were that this book was just going to be too painful to read. And that was so far off base, it was like I was playing football. Tender Morsels is the story of child abuse and rape, yes, but it's almost about finding love, acceptance, and healing. And it's beautiful. Knock down, drag out, beautiful. It drug me through the ringer. I was sobbing over this book at 3 am!  It's just so powerful! And when I read reviews that say how much this book helped them…well, that's just the icing on the cake. You must read this book.
Lucky for me, my bloggin' buddy Kelly read Tender Morsels not too long after I did, so we got together to discuss. What follows is the first part of that discussion. Check ye out her olde blog to read the rest.
Heather: To jump on in there, what did you think of Margo Lanagan's writing style?
Kelly: Well, when I read a short story collection by her, I didn't like it at all. I was very nervous about reading a novel by her because I disliked her short stories so much. Then, Ana suggested this book as one of my swap picks. I have tried to get into this book twice before, but just couldn't seem to do it. This time, though, I knew you had loved it, so I was determined to get into it. This time she just clicked for me. I still find she drags a bit, but overall her writing really drew me in. What do you think?
That was exactly what I thought too! I had the same problems. I tried reading it and I couldn't get into it. But I knew Chris and Ana loved it so much! So then I tried listening to it. And I HATED it. I think it was the readers. They just got on my nerves so much. So when Chris put it on my list, I was like "OH NO!" But I figured I would try one more time and like you, it somehow just clicked for me. I read it on my Nook and I think I read faster on that, so maybe that helped, I don't know. I agree that it dragged in places, but it did really drew me in too.
What did you think of the characters?
I read my in paper format, which is the only format I had tried, and it worked this time. I now knew that you, Chris, AND Ana loved it, so I think that was the push I needed. You have to admit, the beginning is rough. It's not something you particularly enjoy reading, but when you get beyond that and things start to develop it makes a big difference. That's what I told myself this time. I just had to get beyond that and then see what I thought.
I really enjoyed the characters. I think that is part of my enjoyment of the book. A great story is one thing, but if I don't like the characters it is not going to work for me at all. We knew what Liga had gone through, so no matter what happened afterwards it was hard to not constantly feel bad for her. I think she got a break, but on the other hand, things never went amazing for her. She had her daughters, though, and they got the breaks that she should have had. Branza, the oldest daughter, was sweet. I liked her attraction to nature and wildlife. Urdda, though, was my favourite. I would like to think if faced with the same I would be more like her. She was the wild child and her abilities were pretty impressing near the end.
Which was your favourite sister?
Branza, for her love of the outdoors and wildlife. That is just so me! Urdda was an amazing character, with her wildness and freedom and love of life, but I just identified more with Branza. I would love to have a pet wolf like she did!
I agree, the beginning is really hard to read, and the point I stopped reading the first time. It was just so painful to read. The second time I stopped when Collaby died. This time however, once I got passed those parts it was much easier, maybe because I had already read it. It is so worth getting passed all that!
What did you think of Liga's "heaven?" I'm torn on it. On one hand, it's great that she had somewhere to go and hide from, well, her life, but on the other hand, who gets to go hide in their own heaven? Did you like how Lanagan did that?
I made it pretty much the same length both times. I am not even sure why I stopped, because that meant I read the beginning three times in the end. Once it got going after that I was fine. Other things sort of dulled in comparison. There were other bad moments, don't get me wrong, but for me I found the beginning the hardest.
I would love to have a pet wolf, too! Or, well, just a dog… Both sound appealing!
As to the heaven, I think it was the impossibility of it that Lanagan was playing off. You have to admit, when people have rough days they want to escape. Liga dealt with a lot in a short period and she escaped entirely. This might not be practical, but it is what people wish. It was never meant to be permanent, but she didn't know that. She stayed there until it wasn't possible anymore. She was starting to feel the limits, though. While she didn't necessarily have to face the bad things, she still had them lurking in the back of her mind. It was magic and everyone wants to believe in magic. Maybe not it bringing you to a 'heaven', but taking all the bad things away. I guess Lanagan did well in showing that escaping your troubles is not all it is cracked up to be.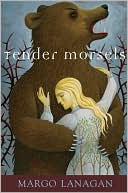 Tender Morsels by Margo Lanagan
Random House Children's Books, 2008
eBook (downloaded from B&N)
Category: Young Adult
ISBN: 0375848118
Requisite covering of my butt – link goes to B&N yo. I will make a bit (tiny) of $ if you click on it and buy the book.
---
Related Posts