They say that the cure for love will make me happy and safe forever. And I've always believed them.
Until now.
Now everything has changed. Now, I'd rather be infected with love for the tiniest sliver of a second than live a hundred years smothered by a lie.
There is this book I've been meaning to read for rather a long time. It's called Before I Fall by Lauren Oliver. Heard of it? I hear it is really good. I've even had it out from the library a couple of times, but for some reason, I can't seem to pick it up. So when Delirium, the newest book coming from Ms. Oliver crossed my path, I dropped everything and read it. And boy howdy, I am so glad I did! And now I need to really get my hands back on (again) Before I Fall, because Ms. Oliver is a fantastic writer.
Delirium has one of those basic concepts that make you slap your forehead because of your own stupidity simply because it's 1) so brilliant and it's 2) a "why didn't I think of that?" idea! Love is a disease. That is the hook. It's simple, yet ingenious. Love is a disease, called amor deliria nervosa, and in the not so distant future, this disease has been virtually eradicated. It can affect one at any time, but one cannot have the operation for the cure until one's 18th birthday. 17-year-old Lena has 95 days to go until her own operation and she can't wait. The disease that killed her mother will not get her. She is committed, determined, ready to go!
That is, until she meets Alex.
Alex is what is called an Invalid – part of a tribe of uncured humans who live on the edges of society. He's dangerous, mysterious, cute, and he has a freedom unlike anything Lena has ever known. I bet you can guess what happens next. Yes, there are times the narrative gets a little bit predicable, but I found myself not caring in the least. Lena is the kind of character you care for almost immediately. Her emotionally neutered family is the normal for Lena, but alarming to the reader and made me pity Lena instantly. In Lena's eyes, the lives of her family are perfect. They will never suffer the anxiety, the depression, the insomnia, loss of appetite, all the side-effects of amor deliria nervosa and all things she can do without thankyouverymuch.
Yet the more she falls for Alex, the more she can't see herself living without him. And the more she watches her family, the more she can't see herself living like they do. But how will she free herself? And what really happened to her mother?
You'll have to read it to find out! As you should do! Despite the typical perfection of the male love interest (the way it always seems to go in these YA books) Delirium is a really good book. Lena is a great character. Oliver's writing is wonderful. The tension surrounding Lena and Alex tightens in such a way as to barely notice it. Oliver takes one on one heck of a ride. And the ending was perfect.
Highly recommended.
Other thoughts:
And DAMN, if I may say so, Lena's scenes with Alex sizzle, making the novel soar to dizzying heights of emotion.

But it isn't just romantic love that is so well explored here. Lena has a very close relationship with her best friend Hana that is heart-breakingly real, and we also see snippets of the happy familial love she shared with her mother. – Presenting Lenore

Lena's transformation from someone who so adamantly opposes the idea of ever loving someone to someone who is head over heals in love, questioning everything she's been taught, is what makes the book interesting.  Unfortunately for me, it also made it incredibly dull after awhile. After about 200 or so pages of her inner-monologue about whether or not she was doing the right thing, I started to go bonkers! I was thinking, "can we just get this over already?" –

There's A Book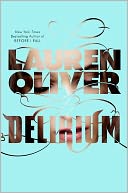 Delirium by Lauren Oliver
Young Adult, Dystopian
Published by: Harper Collins Children's Books
Format: Hardcover
On Sale: February 1, 2011
ISBN: 9780061726828
Purchase from Barnes & Noble
I am a Barnes & Noble Affiliate and will make a very small profit if you buy a book through one of my links, which goes to hosting, giveaways, etc, for my blog.
Related Posts