The last set of mini reviews I did went over so well with you guys that I think I'll do it again.  It suits my currently milieu of lethargy and short-attention-span-ness.   Really, I feel ever so much like a teenager lately, flitting from one thing to the next. It's abysmal and I hope it passes soon!  It's a little too early for holiday fatigue.  Our tree isn't even up!  This is mini reviews – the Graphic Novel Edition Volume 1.

Trickster – Native American Tales: A Graphic Collection by Matt Dembicki – Being part Cherokee, this was an especially exciting find for me.  I'd not heard of it before, so when I saw it on the library shelf, it was a pleasant surprise.  Reading it was even more pleasant.  Well, not pleasant exactly…. But it was very satisfying.  I loved this collection of 21 folktales and I loved the story of how it was created even more.  Native storytellers were paired with many artists to create these gorgeous little comic stories that tell the story of our world and how things came to be, of how animals love to play tricks on each other.  Coyote, Raven, Rabbit, Fox and many other animals are brought to life in these lovely little tales.  The artists outdid themselves.  Many of these stories have some of the most incredible art I've seen in any such collection or comic book or graphic novel.   Highly recommended.
Cinderella: From Fabletown with Love by Chris Roberson and Shawn McManus – from those zany guys (or, well, mainly the mind of Bill Willingham) comes another off-shoot of the Fables Universe.  This time it is Cinderella's (aka Super Spy, fashionista, and shoe-whore [I mean that in the nicest way]) – time to shine.  Cinderella is like a mythical, magical, beautiful, feminine James Bond and this graphic novel is a great addition to the Fables canon.  I really enjoyed this spin-off!  It's a fast-paced, rollicking good-time of a story of espionage and lots of adventure – the kind of thing you expect from Fables.  The combination of Cinderella and Aladdin was inspired.  The art was as gorgeous as you would expect and I LOVED Chrissie Zullo's cover.   I can't wait for more of this spin-off.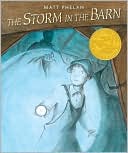 The Storm in the Barn by Matt Phelan – Gorgeous!  Absolutely stinking gorgeous.  Every page, every frame, every gust of dusty wind are works of art.   This is probably my favorite graphic novel of the year.  The Storm in the Barn is set in 1930s Kansas, when farmer's tried to survive a terrible drought and follows a painfully shy, sweet 11-year old boy named Jack Clark.  Jack's father thinks he's useless.  He has a sick sister who cannot leave her sick bed.  And he keeps seeing a dark, mysterious and rather scary figure lurking around an abandoned barn near his home.  He chalks it up to the dust dementia everyone's been talking about.   Curiosity, however, gets the better of him and he goes inside.  And what a surprise he finds in there….
I shall leave it at that. Well, and with a bit of the artwork, since I was able to find some of it online!
Art from Matt Phelan's website.  See more there.
Requisite covering of the butt….  All book links lead to Barnes & Noble, where I am an associate.  Purchases go to maintaining my website and helping me buy more material for said website, ie – more books.   I bought Cinderella, the rest came from the library.
Related Posts