Oh my dears.  I don't know if I should put this down to the huge reading slump I am in (3 weeks and counting, still haven't finished a book) or the browbeating I feel  like I am getting from this book, but I'm afraid this is going to be a big ole Did Not Finish.  Which is sad because I really wanted to like this book.  I loves me some books set in a private school, especially ones for girls, but whoa.  This is maybe too much.
Obviously, since I haven't finish and am seriously considering not finishing it, (which, knowing me means I won't), I'm going to give you the Summary from BN.com
A wonderfully compelling debut novel about the intertwining and darkly surprising relationships between the teachers and students at an all-girls prep school Spend a year at the Carmine-Casey School for Girls, an elite prep school on Manhattan's Upper East Side: the year when the intimate private school community becomes tempestuous and dangerously incestuous as the rivalries and secrets of teachers and students intersect and eventually collide.

In the world of students, popular and coquettish Dixie Doyle, with her ironic pigtails, battles to wrest attention away from the smart and disdainful Liz Warren, who spends her time writing and directing plays based on the Oresteia. In the world of teachers, the adored Leo Binhammer struggles to share his territory with Ted Hughes, the charming new English teacher who threatens to usurp Binhammer's status as the department's only male teacher and owner of the girls' hearts. When a secret is revealed between them, Binhammer grows increasingly fascinated by the man he has determined is out to get him.

As seasons change and tensions mount, the girls long for entry into the adult world, toying with their premature powers of flirtation. Meanwhile, the deceptive innocence of the adolescent world complete with plaid skirts and scented highlighters becomes a trap into which the flailing teachers fall. By the end of the year the line between maturity and youth begins to blur, and the question on the final exam is: Who are the adults and who are the children?
Sounds really good right?  All repressed sexuality and deflowerings and scandals and whatnot.  Like WriteMeg.com wrote in her review, it's the "Gossip Girl for the thinking woman or man." Yet it's lacking something and I'm thinking that something might be some heart.  Gaylord is a lovely writer; extremely evocative.  At first, I was delighting in the shear beautiful of language, the richness of it, the utter beauty of it.  But then, around page 50 or so, it started to grate. on. my. nerves.  And geez, all these girls!  They are like walking sex time-bombs and I can't tell who is going to go off first, the girls or their male teacher Mr. Binhammer. (Talk about phallic symbolism. Sheesh.)  And then, then!  Gaylord introduces a character named Ted Hughes?  For Pete's Sake!!!  And starts talking about how all the girls are going to slit their wrists or stick their heads in ovens a la Sylvia Plath?  Gah!
For all the flowery talk, the book is insanely readable.  I read these first 55 pages pretty quickly.  I'm just not connecting to anyone. At all.  And dude, after 50 pages?  I need some connection.  So alas, I feel this book isn't for me.  But please, please, please check out the other stops on this tour and get more opinions.  For, like I said, it could all be me.  It's happened before!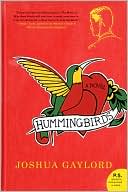 Hummingbirds: A Novel by Joshua Gaylord
Published by: Harper Perennial – Paperback – 368
On Sale: October 5, 2010 ISBN: 9780061769023

Purchase from The Book Depository or Barnes & Noble.

Please see other reviews on this TLC Book Tour.  Huge thank yous to those lovely ladies and the Publisher, for the book.
I am a Book Depository and Barnes & Noble Affiliate and will make a very small profit if you buy a book through one of my links.
---
Related Posts