I've seen where people do these things called "mini-reviews?" When they are way behind on books, or feeling lazy or just don't have that much to say about a book? Well, I am in the midst of a mini blogging slump (to go along with this unending reading slump) (I'm nothing but a big lump of slump).  A blogging crisis. I just can't think of what to say, or a way to say anything and make it in any way entertaining. I guess I'm having a conflict of confidence, which happens quite a lot, but I miss blogging dagnabbit so I'm going to post something, no matter how bad it is! And that something is mini reviews!  So here are a few! Enjoy!  Dagnabbit, let's see how concise this ole windbag can be, shall we?
Lolly Willowes – or the Loving Huntsman by Sylvia Townsend Warner
Y'all, when I got this I wasn't sure what to expect. I just knew my blogging buddy Amanda loved it and my other blogging buddy Nymeth had gotten herself a copy. I managed to score a pretty decent copy on PaperbackSwap and it seemed the perfect fit for both the readathon in October AND RIP V. And it was a very quick read. And also a strange one. But such a strange, lovely, quirky little journey it was. Lolly is a spinster aunt and is tired of being the "find somewhere to stick her" member of the family.  So she moves.  To a remote little country town, a town where everyone is a witch.  Lolly soon finds she is quite happy there, until her loving nephew comes to visit. So Lolly goes and visits the devil. Ooooooooooo…right?  I loved the inference that women do not need to have a distinct 'purpose' to simply exist (like we don't have to married or mothers or what have you just because others think we should) and that one can be happy doing what one wants, not what everyone expects.  Great fun and highly recommended.
Not bad eh? Let's keep going!

How to Buy the Love of Reading by Tanya Egan Gibson; read by Renee Raudman
Well…I don't think I can do this one concisely.  This book is the complete opposite of concise.  In fact, there is no way in the world to be concise about this book.  Let's just say I really really liked it.  And we'll come back to it later.  Oh and I adored the reader.  Renee Raudman totally made this book the fun that it was.  Not to say it wouldnt' be fun to read, obviously, I just really enjoyed her reading.  Gah, I better stop while I'm ahead.

White Cat: The Curse Workers #1 by Holly Black; read by Jesse Eisenberg
I've been going through something of an existential crisis in that my beloved YA books have not been so beloved this year. I have not read many, have not wanted to read many, and those I have read haven't exactly tripped my trigger. I needn't have worried about Miss Holly Black because, as usual, she knocked my socks off. This book was just plain fun y'all. People are born with the ability (well, some are) to work curses, but it's illegal so everyone keeps it secret. Everyone and I mean EVERYONE wears gloves to avoid contact. Curse workers are somewhat like the mafia, with the control, riches, and such. Cassel is from a family of curses workers, but he can't work the magic himself. He's a pretty decent kid, despite being from such a criminal family of curse workers, if you ignore the fact that he's the school bookie, and that he killed his best friend Lila three years ago. And Jesse Eisenberg's reading was what really made the book. He was fantastic and I can't wait for the next book, especially if he reads it.
Oooo, I'm on a roll, so let's do one more!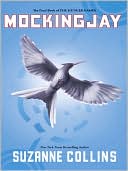 Mockingjay by Suzanne Collins
Surely you all know what this is about by now, right? So we'll just say I'm on the LOVE IT side of the fence. I thought every bit of it was perfect, totally in character, and the ending, which while incredibly sad, was also absolutely fantastic.
Wow, that was fun! I'll have to do that again sometime. If this blogging funk holds, it may be next week!
All links lead to Barnes & Noble, where I am an associate.  All books, except for How to Buy the Love of Reading, were bought by me.  I received HtBtLoR from the author, but then elected to listen to the audio, so technically, I bought that one too.
Related Posts