When David Pepin first dreamed of killing his wife, he didn't kill her himself.  He dreamed convenient acts of God. – page 1
I have been striving to read more challenging books this year, and I didn't think I would meet a book more confusing, more complicated, and more verbose than Day for Night by Frederick Reiken this year.  Thenl I picked up Mr. Peanut by Adam Ross and wow.  I read it a couple of months ago, have read many other reviews, synopses and such and I still do. not. have. a. clue.  I know what the book was about, yes, but then again, I feel like I have no idea what the book was about.  Let's see if we can pick it apart and put it back together in a way that will make you want to read it.  That way you can come back and tell me all about it.  I need you to go read it and come back and tell me all about it.
And be sure you take notes as you write.  I would be at least five times more confused if I hadn't.
So there are these three guys.  They are all (by all appearances) desperately in love with his wife.  All three men have entertained the idea of murdering his wife.  Two quite possibly have murdered his wife.  (I hope that is grammatically correct.)  The other just knocked his up and I am still undecided if she actually agreed to that, but anyway, she's having a baby.  Two of the women definitely have mental issues, one to the point that she will not even leave her bed, the other to the point that she looses over 100 pounds.  One of these couples was real; like really alive.  Like, they actually lived and Ross is using part of their story for his story, you know, to make it extra special confusing.  To top it all off, I (personally) get the feeling that no one seems to like women or marriage much in this book at all.  (The author has said otherwise, that is it actually pro-marriage, but anywho.  I do not (personally) see it.) (Why am I so parenthetical lately?)
Couple number one is, at first glance, happy.  David and Alice Pepin have been married for thirteen years.  David adores her, despite her weight, which is significant.  In fact, he seems to find her more beautiful fat than skinny.  He can't imagine life without her, yet from page one he is fantasizing about something (or someone) killing her.  Before long she is dead and he is both deeply distressed and the number one suspect.  Enter the two detectives; Ward Hastroll and Sam Sheppard.  If you remember, I mentioned one of these couples were from real life.  If you have seen the Harrison Ford/Tommy Lee Jones movie The Fugitive or the television show of the same name, you know the story, for those shows were based on the story of Sam Sheppard, a man accused, tried and convinced of killing his wife in 1954, and eventually cleared and set free.  Somehow Sam is alive and well in contemporary New York and is a police detective.  Ward Hastroll is his partner.
What follows in the dissection of the three marriages, almost down to the molecular level.   There is lots of depression, violence, love, hate, fear, confusion, fear, hate, love, violence, depression, and food allergies.  Yes, food allergies.  Where do you think those peanuts come in?  Ah, but we're venturing into spoiler territory, so let's leave that alone.   No one in these three marriages seems particularly happy.  In fact, they all seem pretty miserable.  The action goes back and forth between the three stories.  Each man grapples with his feelings for his wife, his desires, his ideas of marriage, love, and his morality.  In the end, I'm not sure any are left happy.
Ross's writing is evocative.   He can definitely write a beautiful phrase and for that alone I would probably read another book by him.  For instance:
We tell stories of other people's marriages, Detective Hastroll thought.  We are experts in their parables and parabolas.  But can we tell the story of our own?  If we could, we might avoid our own cruelties and crimes. – page 22
Isn't that lovely?
In the end, my thoughts are like those of the Library Journal, who says in their review, "Recommended for ambitious readers."   I'm just not sure either of us means that in a good way.  Mr. Peanut is definitely a challenging read and I'm not sorry to have read it.   The rapid back and forth between couples, time, and stories gave me a bit of reader's whiplash.  If forced to give a definitive opinion, I would say I did like it.  I just didn't love it.  I'm left feeling uncomfortable with the way each man thought about his wife and that's why I didn't love it. 
This is probably the worst review I've ever written, but I'm just tired of messing with it.  I do apologize…
Other, more educated opinions:
The New York Times Book Review – Scott Turow  – …the daring, arresting first novel by Adam Ross, an author of prodigious talent, which takes as its theme "the dual nature of marriage, the proximity of violence and love"…Mr. Peanut requires considerable decoding. This can be annoying, a little like going to a dinner party where all the guests seem bright and amiable but insist on speaking another language. Yet over all, the novel is an enormous success—forceful and involving, often deeply stirring and always impressively original.
The New York Times – Michiko Kakutani – From the first page on, it's clear that Mr. Ross…is a literary gymnast. He's a sorcerer with words, whose David Foster Wallace-like descriptive powers have given him the ability to conjure everything from a pretty Hawaiian beachscape to the slow-motion horror of a car accident with color and élan.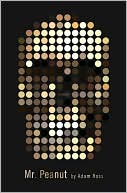 Mr. Peanut
Written by Adam Ross
Category:  Literary Fiction
Published by: Knopf
Format: eBook
On Sale: June 22, 2010
ISBN: 978-0307270702
Rated: 3/5
Other varying opinions:
Devourer of Books |  The Book Lady's Blog | my books, my life
I got my copy from the library, downloaded it in fact, to my nook.  😛 FCC
I am a Barnes & Noble affiliate and will make a very small profit if you buy a book through one of my links.
---
Related Posts