When I first opened this book, I gasped in shock (and then with glee!).  It's a deceptively normal paperback book, but when you open to the first page, you see color.  And then, when you go to the next page, there is more color.  And then, if you finger rapidly through the book, you see even more color!  Every single page of this book has something in color.   Pink title text, pink boxes for recipes (yes! recipes!), and it helped add to the fun of this book.
At first glance, The Recipe Club has an intriguing premise.  Two lifelong friends, Lilly and Val, grow up together, writing each other cozy little letters all the time.  They are within visiting distance of each other, but they seem to enjoy writing to each other on the side.  They decide to form club, The Recipe Club, and included various recipes with their missives; delicious sounding things like Lovelorn Lasagna, Double Date Blintzes, and Cloud Nine Stuffed Peppers.  All their recipes are included in the book and wow, some of them sound fantastic!  The two friends are vastly different.  Val is smart, shy, and ambitious.  Lilly is dramatic, a real 'show person', who loves to sing, dance and act.  Each girl struggles to find their place in the world, away from their parents, and seek solace and advice from each other.  They sustain each other for many years, until something happens in their early twenties that tears the two close friends apart for over twenty years.
The epistolary framing is interesting here, but I'm not entirely convinced that it works.  Being the 1906s, and being young, I can see where that would be fun.  I had a good friend in school that I corresponded with constantly simply because we liked getting mail.  And I have read several epistolary novels that I thoroughly enjoyed.  In this case, however, I felt that it held back the characters just a bit.   It made this a very quick read and I never felt entirely connected with the characters.  It took me a long time to figure out who was who and which parent went with which kid.  The letters were not a typical back and forth; sometimes three or four letters from one girl would be together.  Then, about three-fourths of the way through the book, it abruptly changed to a more traditional third-person narrative and it was jarring.  I almost felt lost, as my brain had to change gears a bit.
These were minor quibbles as I did enjoy the book.   Once I figured out who was who, I came to care about Lilly and Val and wanted them to end happily.  They felt like real friends, as both got on my nerves constantly, but not in a bad way!  I suppose they reminded me a lot of me and my friends.  I loved being reminded of my childhood friend and our love of writing letters to each other.  It makes me want to grab a sheet of paper and write her a nice, long letter now!  Don't you miss letter writing, just a bit?  There is something so romantic about taking pen to paper and writing your thoughts and feelings to someone you care about so much.  It means so much more than just an email, or even a phone call, in my mind.  Anyway, all in all, this is a nice, light, fun read for the beach or on a day when your brain may be a little bit tired.   A fun read, to be sure.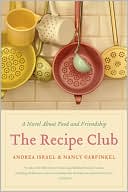 The Recipe Club
Written by Andrea Israel and Nancy Garfinkel
Published by HarperCollins Publishers
On Sale: September 2010
Paperback, 342 pages
ISBN: 9780061992292
Rated 3.5 out of 5
Please visit other stops on this tour.
Thank you to TLC Book Tours and the publisher for my copy of this book.
Purchase from Barnes & Noble or the Book Depository
---
Related Posts