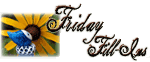 1. Oh, I can't wait until I have a 
full night's sleep!
2.
Organic milk and apple juice
 is the first thing I see when I open my refrigerator.
3. I never leave home without 
my pocketbook!  My life is in there!
4. If I were a condiment, I would be 
catsup
because 
that way I could be sure Ellie would eat!
5. 
People asking me what I'm doing, when it is REALLY obvious
is really high up on my list of pet peeves.
6. The last thing I thought of before I went to bed was 
I hope Wesley doesn't wake up soon!
7. And as for the weekend, tonight I'm looking forward to reading some Harry Potter tomorrow my plans include taking a friend's bridal portrait (and I'm SO nervious!) and Sunday, I want to relax, but it looks like I'm going to a birthday party!