Monthly Archives::

March 2011
Beach. I'm ready to GO.
More Wordless Wednesday fun here.
---
It's Monday! What Are You Reading This Week? is a weekly event to list the books  finished last week, the books currently being read, and the books to be finish this week. It was created by J.Kaye's Book Blog, but is now being hosted by Sheila from One Person's Journey Through a World of  Books.!
OMG Ya'll, where did Monday go? Geez! I totally almost posting this. Gonna do it anyway, even if I don't get a comment. I don't care! Ha! 😉
So, last week was a great reading week. I finished 5 books! (If I count the one I finished earlier today, natch!) Firstly, I FINALLY finished At Home: A Short History of Private Life by Bill Bryson which, while fascinating and a great listen, also didn't feel that short. It WAS sixteen and half hours! It was very interesting though and I am glad I listened to it.
I finished Colleen Gleason's lasted, The Vampire Voss. I remembered how tired I was of vampire books while reading this one. I love Colleen's work (the Gardella series is so good) but this one didn't quite live up to them. Next, I finished Bumped by Megan McCafferty, another entry in that huge category of YA Dystopian novels. I'm afraid if I start writing about this one, I won't stop, so I'm going to stop with I finished it and go start another post to review it. lol I have a lot to say, just hope I can get it out there.
Then, I happened to pop on Twitter Saturday morning to see Michelle of Galleysmith talking about The Dark and Hollow Places by Carrie Ryan. I had TOTALLY forgotten it was coming out! I immediately (and guiltily) made my way (quickly) (before I could change my mind) and bought it on my Nook. I'd been dying to read that book since the last one (The Dead-Tossed Waves) came out and it Did. Not. Disappoint. The only problem I have is that it's the last one in the Forest of Hands and Teeth series. I WANT MORE! Do you HEAR me Carrie Ryan??? *sigh*
Then today, I finished listening to The Great Gatsby by F. Scott Fitzgerald. And definitely more on that Friday.
This week I'm reading a completely and totally fascinating book called Faery Tale: One Woman's Search for Enchantment in a Modern World by Signe Pike. I posted a couple of quotes on my Tumblr. I just can't put this one down and it's the perfect way for me to start Once Upon a Time. Although, I reckon The Dark and Hollow Places counts too…. Hmm…. Anyway. I'm listening to I Shall Wear Midnight by Terry Pratchett and performed by the amazing and perfect Stephen Briggs. I've only read (or listened) to 5 or 6 books by Mr. Pratchett so far, but already picking one up feels rather like coming home. How did I live without him? Lastly, I am reading Red Glove by Holly Black, the second book in the Curse Worker's series. I listened to White Cat and I'm reading Red Glove and I'm already missing Jesse Eisenberg. Wondering if I'll make the switch? So am I.
So, how was your reading week?
The Bone series was one of the "books" Debi put on her challenge list for me to read this year.  I say "books" because Debi cheated. Debi knew she cheated. "Books" really meant NINE books. Which was perfectly fine with me, because once I read the first one, I was totally hooked. I did not want to stop. The Bone series is a pure joy to read from the first page of the very first book, to the absolute last page of the very last book.
The Bone series follows, Phoney Bone, Fone Bone, and Smiley Bone, three cousins who have been chased out of Boneville-well, actually Phoney Bone has been chased out of Boneville-Smiley and Fone Bone just came along to help Phoney escape. Phoney is exactly what his name says, a Phoney, and he tried to swindle the Bones of Boneville one too many times. They get lost along the way, in a vast desert, and manage to get separated when a locust storm overtakes them. Fone Bone calls down a deep ravine and inadvertently wakes a red dragon. (The dragon is hilarious. I loved him.) The dragon follows Fone Bone as he heads towards a verdant valley that Fone Bone never knew exist. (Yes, I could call him just Fone, but it just doesn't sound right to me!) There, after surviving the winter, he meets Thorn and Grandma Ben, and the adventures really begin.
That is just at tiny taste (and an inadequate one at that) of the awesomeness that is Bone. I loved Bone. I adored Bone. I want to marry Bone and have it's children. Okay, that's a little too far, but seriously, I loved it. It has been over a month since I plowed through all nine books and I find still find myself thinking about the story, the characters, the in jokes (Stupid, Stupid Rat Creatures!!!), the gorgeous gorgeous art, and more. This story is so many things. Adventure. Coming of age. Road trip. Love. Loyalty. Destiny. Friendship. Finding yourself. Trust.  It's dark. It's funny. It's epic.
Oh, I could go on and on.
And the art. The art! Did I mention the art?
The art is beautiful. Every panel is gorgeous. I grew up reading all my dad's old comics from the 50s and 60s and Bone, to me, felt like a bit of a throw-back to those old comics. And it only added to my love. If you have never read a graphic novel and have been curious to try them, Bone is the PERFECT place to start. It is fun to read with lots of heart with truly gorgeous art to look at. And I think it would be great for children.
Thank you Debi and your cheating ways!
(Incidentally you CAN buy all nine books in one, as the ISBN I reference below, but it's not in color so I actually don't recommend it. Spurge and get all nine. It is totally worth it.)
(Also, you will never look at quiche the same way again.)
(For that matter, rats won't either.)
Other opinions:
Nymeth from Things Mean a Lot:
Another reason why I loved Bone was because it really shows what comics can do as a medium. This story couldn't be anything else. The art is so expressive – it does so much for the worldbuilding and characterization. It is the worldbuilding and characterization.
Bone is a delightful mix of humor, action, and real emotion.  I appreciated the recurring gags Smith included throughout. … If you've yet to pick up this series, do yourself a favor and see what the kids love so much.  Bone is a great example of what kid lit should be: fun, funny, and meaningful.
The interactions and contrasts among the three cousins offer good dynamics, and Thorn and her grandmother are great characters. … The full-color drawings are absolutely brilliant. I am particularly taken with the characters' faces—from the monsters to the baby possums—and the eyes and the general expressions are fantastic.
Bone by Jeff Smith
Published by Scholastic
Graphic Novels, Paperback
ISBN (for one volume edition): 188896314X
Important Info: Winner of 11 Harvey Awards and 10 Eisner Awards including Best Cartoonist and Best Humor Publication, as well as being named Best Comic Book by the National Cartoonists Society. BONE has also won multiple international awards in Italy, France, Germany, Spain, Finland and Norway.
---
Come away O human child!

To the waters and the wild

With a faery hand in hand,

For the world's more full of weeping

than you can understand.

– William Butler Yeats, "The Stolen Child'
Do you have any idea how much I need this right now? To loose myself in fairy tales and legends and folklore and all the stories I love so much? Every spring I say this is my favorite challenge. In the Fall I'll say it's RIP. I'm looking for a little healing right now. Hopefully I'm going to find it.
I am doing Quest the First.
Here is my pool:
Faery Tale: One Woman's Search for Enchantment in the Modern World by Signe Pike
Rose by Jeff Smith
Tall Tales by Jeff Smith
Quest for the Spark by Jeff Smith
Brightly Woven by Alexandra Bracken
Ballad by Maggie Stiefvater
The Book of Faery by OR Melling
Arcadia Falls by Carol Goodman
In Ashes Lie by Marie Brennan
Midnight Never Come by Marie Brennan
Burning Your Boats by Angela Carter
The Goose Girl by Shannon Hale
Enna Burning by Shannon Hale
War for the Oaks by Emma Bull
Fitcher's Brides by Gregory Frost
White as Snow by Tanith Lee
Jack of Kinrowan: Jack the Giant Killer and Drink Down the Moon by Charles de Lint
Into the Green by Charles de Lint
Waifs and Strays by Charles de Lint
The Wild Wood by Charles de Lint
Summer Tree by Guy Gavriel Kay
Game of Thrones by George R.R. Martin
Fellowship of the Ring by JRR Tolkien
The Two Towers by JRR Tolkien
The Return of the King by JRR Tolkien
The Faerie Path by Frewin Jones
Beauty by Sheri S. Tepper
Tuck Everlasting by Natalie Babbitt
The Name of the Wind by Patrick Rothfuss
and on and on and on…. that's just the tip of the iceburg. Oh, I'm so happy spring, and the Once Upon a Time challenge, is here!
More Wordless Wednesday fun here.
---
It's Monday! What Are You Reading This Week? is a weekly event to list the books  finished last week, the books currently being read, and the books to be finish this week. It was created by J.Kaye's Book Blog, but is now being hosted by Sheila from One Person's Journey Through a World of  Books.!
Can I get a do-over? A push on the reset button? Because if I thought last last week was bad? Last week was worse. In my dysfunctional family way, my "grandfather" passed away from lung cancer yesterday. He was so blessed to be at home, with his family and to go quietly and peacefully. I doubt you'll be seeing me again this week.
I did manage to finish a couple of books last week. I finished Tender at the Bone by Ruth Reichl which is, seriously, one of the most excellent foodie memoirs I've ever read. Truly fantastic. I can't wait to read the next one; Comfort Me With Apples and am glad I already read it!
I also finished The Vampire Voss by Colleen Gleason, which was, I am so sad to say, a huge disappointment. More on that later.
Oh, almost forgot. I managed to get halfway through Bumped by Megan McCafferty this weekend. I'm afraid this one might have too much hype already, but I'm trying to reserve judgment until I finish. I am almost finished with the audio of At Home by Bill Bryson which is still really good…but getting a bit long in the tooth. Bill apparently has a huge house.
One exciting this happened, just this morning in fact.
Carl announced One Upon a Time FIVE! Spring has officially arrived. Won't you come join in the fun? I will post my choices soon. See you later this week if not next week and please, have a wonderful week.
Now that's what I call sleeping….
More Wordless Wednesday fun here.
---
Ahh. Tender Morsels. What a long and sordid story you and I have. I didn't think I was going to like you. Then I didn't. Then I thought I'd try you in audiobook form. Then I really hated you-but mainly because I couldn't stand your readers. Sorry readers. Then Chris challenged me to read it this year and, since I love him so much and trust so him completely, I decided I would give you one more try.
Boy. Am. I. Glad. I. Did.
I was completely wrong about you. I let your first impressions rule my mind and that was just plain stupid. First impressions of this book are so not the way to go lemme tell ya. Because the first impressions I got were that this book was just going to be too painful to read. And that was so far off base, it was like I was playing football. Tender Morsels is the story of child abuse and rape, yes, but it's almost about finding love, acceptance, and healing. And it's beautiful. Knock down, drag out, beautiful. It drug me through the ringer. I was sobbing over this book at 3 am!  It's just so powerful! And when I read reviews that say how much this book helped them…well, that's just the icing on the cake. You must read this book.
Lucky for me, my bloggin' buddy Kelly read Tender Morsels not too long after I did, so we got together to discuss. What follows is the first part of that discussion. Check ye out her olde blog to read the rest.
Heather: To jump on in there, what did you think of Margo Lanagan's writing style?
Kelly: Well, when I read a short story collection by her, I didn't like it at all. I was very nervous about reading a novel by her because I disliked her short stories so much. Then, Ana suggested this book as one of my swap picks. I have tried to get into this book twice before, but just couldn't seem to do it. This time, though, I knew you had loved it, so I was determined to get into it. This time she just clicked for me. I still find she drags a bit, but overall her writing really drew me in. What do you think?
That was exactly what I thought too! I had the same problems. I tried reading it and I couldn't get into it. But I knew Chris and Ana loved it so much! So then I tried listening to it. And I HATED it. I think it was the readers. They just got on my nerves so much. So when Chris put it on my list, I was like "OH NO!" But I figured I would try one more time and like you, it somehow just clicked for me. I read it on my Nook and I think I read faster on that, so maybe that helped, I don't know. I agree that it dragged in places, but it did really drew me in too.
What did you think of the characters?
I read my in paper format, which is the only format I had tried, and it worked this time. I now knew that you, Chris, AND Ana loved it, so I think that was the push I needed. You have to admit, the beginning is rough. It's not something you particularly enjoy reading, but when you get beyond that and things start to develop it makes a big difference. That's what I told myself this time. I just had to get beyond that and then see what I thought.
I really enjoyed the characters. I think that is part of my enjoyment of the book. A great story is one thing, but if I don't like the characters it is not going to work for me at all. We knew what Liga had gone through, so no matter what happened afterwards it was hard to not constantly feel bad for her. I think she got a break, but on the other hand, things never went amazing for her. She had her daughters, though, and they got the breaks that she should have had. Branza, the oldest daughter, was sweet. I liked her attraction to nature and wildlife. Urdda, though, was my favourite. I would like to think if faced with the same I would be more like her. She was the wild child and her abilities were pretty impressing near the end.
Which was your favourite sister?
Branza, for her love of the outdoors and wildlife. That is just so me! Urdda was an amazing character, with her wildness and freedom and love of life, but I just identified more with Branza. I would love to have a pet wolf like she did!
I agree, the beginning is really hard to read, and the point I stopped reading the first time. It was just so painful to read. The second time I stopped when Collaby died. This time however, once I got passed those parts it was much easier, maybe because I had already read it. It is so worth getting passed all that!
What did you think of Liga's "heaven?" I'm torn on it. On one hand, it's great that she had somewhere to go and hide from, well, her life, but on the other hand, who gets to go hide in their own heaven? Did you like how Lanagan did that?
I made it pretty much the same length both times. I am not even sure why I stopped, because that meant I read the beginning three times in the end. Once it got going after that I was fine. Other things sort of dulled in comparison. There were other bad moments, don't get me wrong, but for me I found the beginning the hardest.
I would love to have a pet wolf, too! Or, well, just a dog… Both sound appealing!
As to the heaven, I think it was the impossibility of it that Lanagan was playing off. You have to admit, when people have rough days they want to escape. Liga dealt with a lot in a short period and she escaped entirely. This might not be practical, but it is what people wish. It was never meant to be permanent, but she didn't know that. She stayed there until it wasn't possible anymore. She was starting to feel the limits, though. While she didn't necessarily have to face the bad things, she still had them lurking in the back of her mind. It was magic and everyone wants to believe in magic. Maybe not it bringing you to a 'heaven', but taking all the bad things away. I guess Lanagan did well in showing that escaping your troubles is not all it is cracked up to be.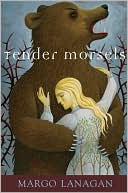 Tender Morsels by Margo Lanagan
Random House Children's Books, 2008
eBook (downloaded from B&N)
Category: Young Adult
ISBN: 0375848118
Requisite covering of my butt – link goes to B&N yo. I will make a bit (tiny) of $ if you click on it and buy the book.
---
I's Monday! What Are You Reading This Week? is a weekly event to list the books  finished last week, the books currently being read, and the books to be finish this week. It was created by J.Kaye's Book Blog, but is now being hosted by Sheila from One Person's Journey Through a World of  Books.!
Well, I don't know about you, but reading sloooowed waaaaay dooooown for me this week. Work was the absolute pits. You know how I needed comfort reads last week? I need them even more this week. The worry I had came to pass; my supervisor (who had a [healthy] baby 4 weeks ago today) passed away on Wednesday from double pneumonia. She leaves behind the baby and two other children. And their daddy…well, he ain't worth much. It's been sad, tragic…a huge slobbery mess around work and the stress apparently did my reading in. This week is probably going to be even worse with everyone coming down to our office to find out what happened and won't end until in a bake sale for her family on Friday.
Plus, it's time to start puttering in the garden again. The garden has been a welcome, and exhausting, distraction this week. But more on that on Saturday.
I did finish one book this week; Kat, Incorrigible by Stephanie Burgis. More on it soon, but I will say now that it was absolutely delightful. A welcome treat. I'm still listening to At Home by Bill Bryson which is omigod fascinating. Really. I wish I could take notes. I almost wish I was reading it so I could take notes, but Bill Bryson reads it and I LOVE listening to him read it. He's such a great reader! I hope to finish it this week. I started Tender at the Bone by Ruth Reichl this week. I mean, what's more comforting than reading about food? Right? And it's great. The food descriptions. On my goodness. They makes me drool. Plus I haven't read a book yet for the Foodie Challenge. Must rectify.
So, how was your week? I hope better than mine. Read anything good?
Y'all, my fingers are itching. Itching to get into some dirt! Witness my splurge last night!
It's all about container gardening and there are some really original ideas in it. While I have a huge, empty of all kinds of growth except grass, backyard and a husband who hates to mow it, he also refuses to let me plow it up for a real garden. *sigh* *rolls eyes* So I have to be satisfied with my containers and my raised beds. *weary sigh*
Anyway.
Then, last weekend, I went to a gardening class! It was so. much. fun. A lady at my church has an herb garden and she started giving classes last fall and then started up again this spring. Last week's class was on how to start plants from seed, and how to take cuttings. We got 6 seedlings and 3 cuttings. Here are my seedlings. A couple are already coming up!
The little guy on the left is called Genovese Basil. I have never grown it before, so I'm really excited about it. I love me some basil. Pesto! The little guys on the right, who didn't not seem to want to come into focus, are dill. Pickles!
Here are my cuttings. The first is called Citrus Kitchen Mint and it smells amazing. I asked and yes, it is supposed to look all shriveled. Apparently, once it gets over the violation of being cut off of it's mother plant, it will perk right up. The other is thyme, which I LOVE and have always wanted to grow. I really hope it makes it! Of course, if it don't, I'll just buy me another.
The biggest surprise is all the stuff going on in my garden! I planted some collards and carrots late last fall, only have them wiped out by an unexpected and very early snow. Well, just look. They all decided to come back! AND I got a surprise spinach to boot! I didn't plant any, it must have naturally seeded itself last year. This is great because my daughter LOVES spinach and refuses any sandwich that doesn't have it on it.
I have another class today at 10 on how to lay out gardens. I have a few plans up my sleeve to get around the hubby. *wicked laugh*
I can't wait!