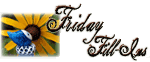 1. Birthdays are when I hope to get new books, but so rarely do.
2. Fall is my favorite season because it means the summer's heat and humidity finally go away, football starts, and the trees turn to lovely reds, oranges, and yellows.
3. I feel my best when it's Saturday and I don't have to go to work!
4. Rice is my favorite food!
5. First impressions are often unfair and incorrect.
6. The best piece of advice I ever received was keep your mouth shut!  I have a tendency to speak before I think.
7. And as for the weekend, tonight I'm looking forward to reading, tomorrow my plans include going to the Farmer's Market and taking Ellie to see Wall*E and Sunday, I want to read, read, read!
In other news, I finally finished one of my long term reads; Diana Gabaldon's Dragonfly in Amber, the second in her Outlander series.  Wow, I feel like I just finished a huge book marathon.  And of course, I promply jumped into number 3; Voyager.  There is just something about these books…and they are great read in little spells over a long period of time.  At least they are for me.  I'm hoping to make it all the way through the series this year.  Of course, it took me the last 6 months to read the first 2!