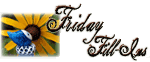 Questions courtesy of Michelle this week, thanks! I'd love to feature your questions, if you'd like to leave some for future use please feel free!
1. On my laziest day I like to READ!
2. Cooking makes me feel like I'm being productive.
3. I love little Wesley and big Ellie.
4. This summer I want to learn more about photography.
5. Loneliness made me start my blog.
6. Red cars and orange juice.
7. And as for the weekend, tonight I'm looking forward to reading, tomorrow my plans include going to the Farmer's Market and Sunday, I want to read and nap!
---
 I am so looking forward to going to the Farmer's Market tomorrow.  I found one about a month ago in Greensboro and it is just fantastic.  I got the most amazing Amish butter, it is just drool-inducing.  Last week I got some collard greens that were mouth-watering.  And that is saying something because I have always hated collard greens*.  Obviously I should avoid canned like the plague and get fresh.  Because fresh is SO MUCH BETTER.  I also go fantastic early tomatoes, mushrooms, zucchini, onions, BREAD (FRENCH BREAD! HOMEMADE FRENCH BREAD!  *drool* ), and strawberries.  I just can't wait for tomorrow morning!!  Squee!
*If my ten-year-old self could only hear me now…